Download FastFlix 5 full version program free setup for Windows. FastFlix is a simple and friendly GUI for encoding videos. FastFlix keeps HDR10 metadata for x265, NVEncC HEVC, and VCEEncC HEVC, which will also be expanded to AV1 libraries when available. It needs FFmpeg (version 4.3 or greater) under the hood for the heavy lifting, and can work with a variety of encoders.
FastFlix Overview
FastFlix is a powerful and user-friendly video encoding and conversion software that stands out for its speed and efficiency. It's designed to simplify the process of converting and encoding videos into various formats, making it an invaluable tool for content creators, video editors, and anyone working with multimedia content. One of FastFlix's standout features is its intuitive and user-friendly interface. Even users with limited experience in video encoding can quickly grasp the basics and start converting videos with ease. The software provides a seamless experience from start to finish, guiding users through the process of selecting video files, choosing output formats, and adjusting settings. FastFlix is known for its exceptional speed in video encoding. It leverages hardware acceleration when available, allowing users to encode videos quickly without sacrificing quality. This efficiency is particularly beneficial for large-scale video projects or situations where time is of the essence. You may also like FXhome HitFilm Pro 12.2.8707.7201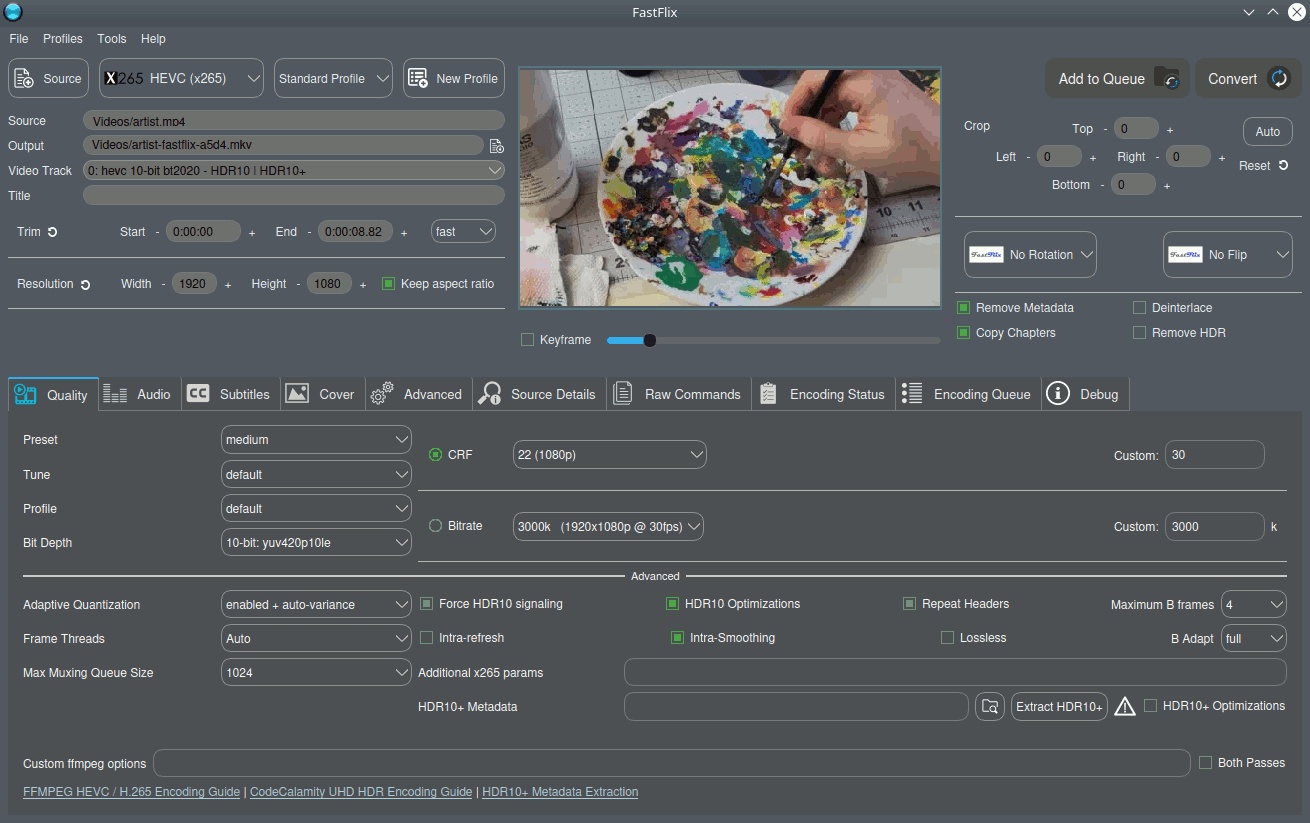 Another remarkable aspect of FastFlix is its versatility in format support. It can handle a wide range of video formats, codecs, and containers, making it adaptable for various platforms and devices. Whether you're preparing videos for streaming, mobile devices, or archival purposes, FastFlix ensures compatibility and high-quality output. The software also provides advanced encoding options for users who require precise control over their video output. It allows for adjustments to parameters such as bitrate, resolution, and frame rate, ensuring that the final video meets specific requirements. Additionally, it supports subtitles and audio track selection, making it suitable for international audiences and multilingual content. In summary, FastFlix is a powerful and efficient video encoding and conversion software that combines speed with user-friendliness. Its versatility, advanced encoding options, and support for hardware acceleration make it an excellent choice for content creators and video editors looking to convert and optimize their video content for various platforms and devices.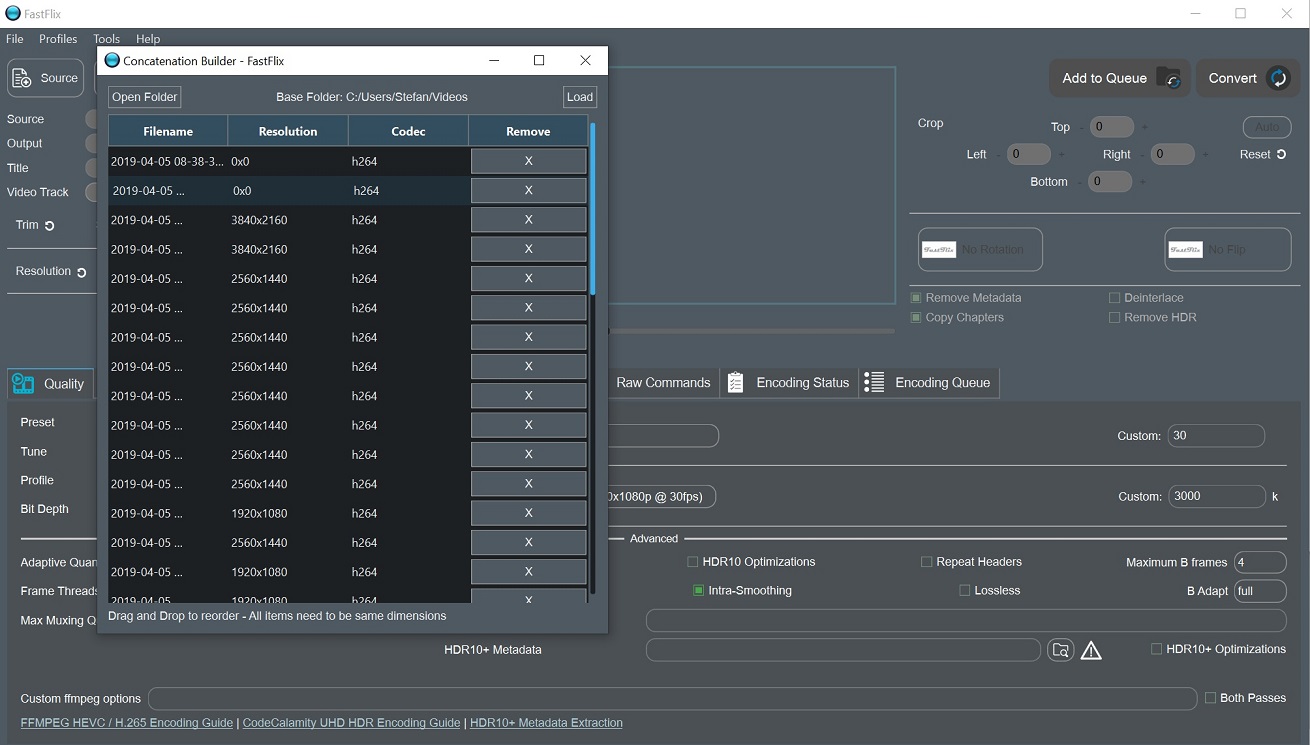 Features
User-Friendly Interface: Intuitive and easy-to-use interface suitable for both beginners and experienced users.
Batch Processing: Ability to process multiple video files simultaneously, saving time and effort.
Hardware Acceleration: Leverages hardware acceleration for fast video encoding without compromising quality.
High-Speed Encoding: Provides quick video encoding for large files and projects.
Custom Presets: Offers a variety of customizable presets for popular devices and platforms.
Video Format Support: Handles a wide range of video formats, codecs, and containers for versatile compatibility.
Quality Control: Allows users to adjust encoding settings for precise control over video quality.
Resolution Adjustment: Resizes video resolution to match specific requirements.
Frame Rate Selection: Offers the flexibility to change frame rates for different playback scenarios.
Bitrate Adjustment: Customizes bitrate settings for optimal video quality and file size.
Subtitle Support: Enables the inclusion of subtitles in different languages for international audiences.
Audio Track Selection: Allows users to choose from multiple audio tracks for audio customization.
Aspect Ratio Correction: Automatically or manually corrects aspect ratios for consistent video display.
Trim and Crop: Provides tools for trimming and cropping video clips to remove unwanted parts.
Video Rotation: Rotates videos to the desired orientation for proper playback.
Deinterlacing: Eliminates interlacing artifacts for smoother video quality.
Filter Effects: Applies filter effects, such as sharpening or color correction, to enhance video appearance.
Chapter Support: Enables the creation of chapters for easy navigation in longer videos.
Subtitle Encoding: Supports subtitle encoding for embedded subtitles in the video.
Preview Mode: Offers a preview mode to check encoding settings before processing.
Metadata Preservation: Retains important metadata, including video information and tags.
Automatic Updates: Regularly updates the software to incorporate new features and improvements.
File Merging: Merges multiple video files into a single file for seamless playback.
Audio Adjustment: Controls audio settings, such as volume and codec, for optimal sound quality.
Custom Output Folder: Allows users to specify the destination folder for encoded files.
Scheduled Encoding: Schedules encoding tasks to run at specific times or intervals.
Command-Line Interface: Supports command-line operation for automation and scripting.
Platform Compatibility: Works on multiple operating systems, including Windows, macOS, and Linux.
Preservation of Subtitle Tracks: Ensures that subtitle tracks are preserved during encoding.
Subtitle Font Customization: Customizes subtitle font size, style, and color.
Multilingual Support: Provides support for multiple languages within the software interface.
Video Preview: Offers a real-time video preview during the encoding process.
Quick Start Guide: Includes a comprehensive guide for new users to get started quickly.
Accessibility Features: Ensures accessibility for users with disabilities.
Exportable Presets: Allows users to export and share custom encoding presets.
Error Handling: Provides detailed error messages and diagnostics for troubleshooting.
Password Protection: Adds password protection to encoded video files for security.
Privacy Features: Respects user privacy and does not collect personal data.
Documentation: Offers extensive documentation and tutorials for users to reference.
Community Support: Provides access to an active user community for assistance and discussion.
Technical Details
Software Name: FastFlix for Windows
Software File Name: FastFlix-5.6.0.rar
Software Version: 5.6.0
File Size: 38 MB
Developers: github
File Password:

123

Language: Multilingual
Working Mode: Offline (You donÆt need an internet connection to use it after installing)
System Requirements
Operating System: Win 7, 8, 10, 11
Free Hard Disk Space:
Installed Memory: 1 GB
Processor: Intel Dual Core processor or later
Minimum Screen Resolution: 800 x 600
What is the latest version of FastFlix?
The developers consistently update the project. You can view the most recent software update on their official website.
Is it worth it to install and use Software FastFlix?
Whether an app is worth using or not depends on several factors, such as its functionality, features, ease of use, reliability, and value for money.
To determine if an app is worth using, you should consider the following:
Functionality and features: Does the app provide the features and functionality you need? Does it offer any additional features that you would find useful?
Ease of use: Is the app user-friendly and easy to navigate? Can you easily find the features you need without getting lost in the interface?
Reliability and performance: Does the app work reliably and consistently? Does it crash or freeze frequently? Does it run smoothly and efficiently?
Reviews and ratings: Check out reviews and ratings from other users to see what their experiences have been like with the app.
Based on these factors, you can decide if an app is worth using or not. If the app meets your needs, is user-friendly, works reliably, and offers good value for money and time, then it may be worth using.
Is FastFlix Safe?
FastFlix is widely used on Windows operating systems. In terms of safety, it is generally considered to be a safe and reliable software program. However, it's important to download it from a reputable source, such as the official website or a trusted download site, to ensure that you are getting a genuine version of the software. There have been instances where attackers have used fake or modified versions of software to distribute malware, so it's essential to be vigilant and cautious when downloading and installing the software. Overall, this software can be considered a safe and useful tool as long as it is used responsibly and obtained from a reputable source.
How to install software from the WinRAR file?
To install an application that is in a WinRAR archive, follow these steps:
Extract the contents of the WinRAR archive to a folder on your computer. To do this, right-click on the archive and select "Extract Here" or "Extract to [folder name]"."
Once the contents have been extracted, navigate to the folder where the files were extracted.
Look for an executable file with a .exeextension. This file is typically the installer for the application.
Double-click on the executable file to start the installation process. Follow the prompts to complete the installation.
After the installation is complete, you can launch the application from the Start menu or by double-clicking on the desktop shortcut, if one was created during the installation.
If you encounter any issues during the installation process, such as missing files or compatibility issues, refer to the documentation or support resources for the application for assistance.
Can x86 run on x64?
Yes, x86 programs can run on an x64 system. Most modern x64 systems come with a feature called Windows-on-Windows 64-bit (WoW64), which allows 32-bit (x86) applications to run on 64-bit (x64) versions of Windows.
When you run an x86 program on an x64 system, WoW64 translates the program's instructions into the appropriate format for the x64 system. This allows the x86 program to run without any issues on the x64 system.
However, it's important to note that running x86 programs on an x64 system may not be as efficient as running native x64 programs. This is because WoW64 needs to do additional work to translate the program's instructions, which can result in slower performance. Additionally, some x86 programs may not work properly on an x64 system due to compatibility issues.
What is the verdict?
This app is well-designed and easy to use, with a range of useful features. It performs well and is compatible with most devices. However, may be some room for improvement in terms of security and privacy. Overall, it's a good choice for those looking for a reliable and functional app.
Download FastFlix 5 Latest Version Free
Click on the button given below to download FastFlix free setup. It is a complete offline setup for Windows and has excellent compatibility with x86 and x64 architectures.
File Password: 123