Download Kali Linux 2020.1 free latest version offline DVD ISO installer for both x86 and x64 architecture. Kali Linux 2020.1 is a Debian-based Linux distribution with a variety of powerful tools and applications that are widely used to increase the security of the system by performing various breaches.
Kali Linux 2020.1 Overview
The Kali Linux is one of the most popular Debian Linux distributions providing a variety of powerful applications for hackers, attackers and security professionals to find any security flaws of a system y breaching it. It has a modern-looking user interface with a bundle of customizations and comes packed with numerous powerful applications. It provides all the necessary tools for analysis of the network or a system. Linux Kali is provided by the Offensive Security company and developed by Devon Kearns and Raphael Hertzog.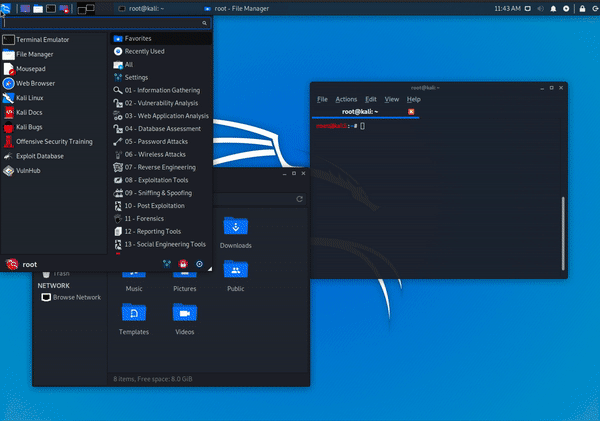 Kali Linux has the collection of best tools for security and hacking. These security applications include Armitage, cybercrime attacks management, Wireshark Packet Tracer to sniff and trace packets, Nmap for scanning the ports, as well as Aircrack-ng for testing wireless network and both Burp Suite and OWASP ZAP for analyzing websites. Also, it comes up with a Network Platform Analyst, a password cracker known as John Ripper, and over 300 other useful tools that are ready to use.
All the security packages and applications are signed by the developers and are legal to use to enhance the security of the systems. It is a secure environment that supports committing the packages according to the needs as it is an open-source platform. On concluding notes, it is a reliable Linux distribution for the security professionals to test and breach the security of different systems.
Features of Kali Linux 2020.1
Powerful Debian-based Linux Release
Open-source environment to enhance the OS by committing changes
Includes different ready to use tools for testing the security of systems
Test the security of any website or web application
Sniff and view packets over a network
John Ripper and Network Platform Analyst
Cybercrime attacks management
Armitage, Nmap, Wireshark, Aircrack-ng, OWASP ZAP and more
Install and use in virtual machine i.e. VMWare
Modified Kernel for penetration testing and development
Technical Details of Kali Linux 2020.1
Software Name: Kali Linux
Software File Name: kali-linux-2020.1-live-i386.iso, kali-linux-2020.1-live-amd64.iso
File Size: 2.4 GB, 2.7 GB
Developer: Offensive Security Company
System Requirements for Kali Linux 2020.1
Free Hard Disk Space: 10 GB of minimum free HDD
Installed Memory: 4 GB of minimum RAM
Processor: Intel Multi-Core Processor
Kali Linux 2020.1 Free Download
Click on the below link to download the latest offline setup of Kali Linux for Windows x86 and x64 architecture. You can also download BackTrack 5 Blackhat R3
32-Bit
64-Bit