NANO Antivirus is a free security tool for your Windows with a comprehensive protection from Viruses, Malware, Trojans, and suspicious programs. This free download is a standalone installer of NANO Antivirus for Windows 32bit and 64bit.
NANO Antivirus Overview
Now when the viruses are becoming more powerful and advanced and you need a tool that can provide complete protection from all the kinds of harmful programs then NANO Antivirus is a wonderful tool to take care of your computer and files. It can efficiently remove trojans, malware, viruses and other harmful programs which can damage your files and Performance of the computer. This wonderful antivirus solution can also monitor the traffic from the internet along with your Email attachments as most of the harmful programs come from the online world. It scans your RAM for any running harmful program as well as the encrypted and compressed files. All of these features are provided as free, you don't need to buy a pack for your specific computer or any subscription.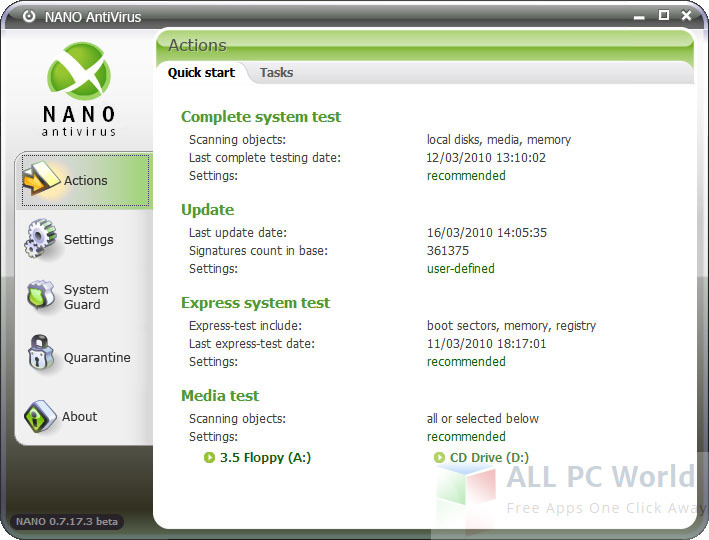 Moreover, NANO has its own antivirus lab, many other paid or free tools use some virus engines or definition databases to remove the virus from your machine. It provides a completely different but understandable environment and scans each and every location on your computer to remove the unwanted applications even from the RAM. You can use this tool with other antivirus programs without any trouble as it has no conflict with other popular antivirus tools. After the scan is complete you can either skip the detected program or remove or repair the program. It may require restarting the machine in order to remove the running harmful programs completely from your PC.
Features of NANO Antivirus
NANO provides advanced options and features to remove malicious programs from your computer, these features include
Easy to use interface with advanced scanning features
Lightweight and faster detection of harmful programs
Can remove viruses, malware, and trojans
Online security features including

Web Security
Email attachment security

Scans RAM for running harmful programs
Enhanced virus engine
Scans and remove malicious files from compressed or encrypted files
Scans executable files and more
System Requirements for NANO Antivirus
Before you download and install this wonderful antivirus application, make sure that your system meets the given requirements
Operating System: Windows 7 or later
Free Disk Space: Minimum 50 MB of free space required
Installed Memory: Minimum 2GB of RAM required
Processor: Intel Pentium 4 with at least 2GHz of Processor or higher
NANO Antivirus Free Download
Click the below link to download the standalone installer of NANO Antivirus for Windows x86 and x64 architecture. It is compatible with all the new and old versions of Windows.