Download Windscribe Free VPN full version program free setup for Windows. Windscribe is a powerful VPN application for securing web browsing and bypassing any network and geographic limitations.
Windscribe Free VPN Overview
In the ever-expanding landscape of digital security and online privacy, Windscribe emerges as a formidable player, offering a comprehensive suite of tools designed to safeguard users' online presence and enhance their browsing experience. As a VPN (Virtual Private Network) service, Windscribe stands as a shield against the vulnerabilities of the digital world, providing users with a secure and private connection to the internet.
Windscribe is a versatile VPN service that encapsulates the essence of anonymity and security. With an impressive range of features, it empowers users to transcend geo-restrictions, protect their data from prying eyes, and surf the internet with peace of mind. Whether it's thwarting potential cyber threats or accessing region-blocked content, this service offers a comprehensive solution.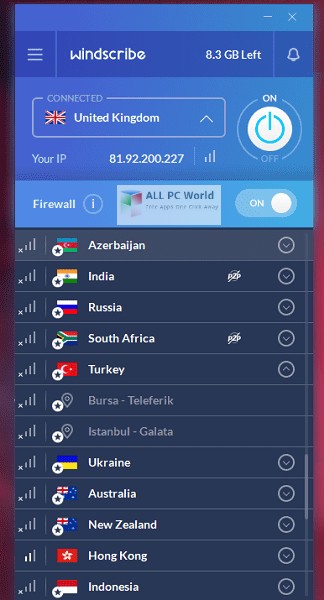 At its core, Windscribe encrypts users' internet connections, ensuring that their online activities remain private and untraceable. This becomes especially vital as cyber threats continue to evolve, and personal data becomes a prime target. By funneling data through encrypted tunnels, the service adds an extra layer of protection, shielding sensitive information from hackers, ISPs, and government surveillance.
A standout feature of Windscribe is its expansive network of servers across numerous countries. This network not only enhances security but also empowers users to bypass geographical restrictions. By connecting to servers in different locations, users can access content that might be blocked in their own region, unlocking a world of entertainment and information.
Furthermore, Windscribe integrates advanced features such as Double Hop and Split Personality, which allow users to route their connection through multiple servers, enhancing both security and anonymity. In an age where online privacy is of paramount importance, these features contribute to a heightened sense of control over one's digital footprint.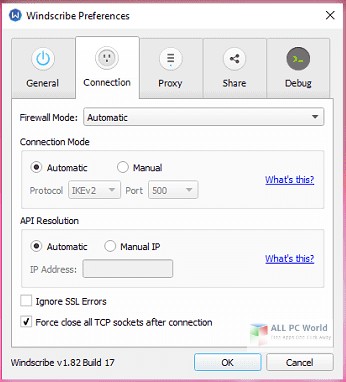 The user experience is a priority for Windscribe, evident in its user-friendly interface and intuitive controls. The service's browser extension makes it incredibly easy to enable and manage the VPN, even for users who might be less tech-savvy. Moreover, the service is compatible with a wide range of devices, ensuring that users can enjoy protection across their various online activities.
In a time when data breaches and identity theft are rampant, Windscribe sets itself apart by including features such as ad-blocking and malware protection. This holistic approach ensures not only online privacy but also a smoother browsing experience devoid of intrusive ads and potential threats.
As digital landscapes continue to evolve, Windscribe remains committed to staying at the forefront of innovation. Its dedication to constant updates and improvements ensures that users benefit from the latest technologies and security enhancements.
Features
VPN service for enhanced online privacy and security
Comprehensive suite of tools for digital protection
Anonymity and secure connection to the internet
Windscribe as a shield against digital vulnerabilities
VPN service for secure and private internet connection
Encrypts users' internet connections for privacy
Protects data from cyber threats and surveillance
Encrypted tunnels for shielding sensitive information
Network of servers in numerous countries
Bypass geo-restrictions for accessing content
Access to region-blocked content with ease
Advanced features like Double Hop and Split Personality
Route connection through multiple servers for security
User-friendly interface and intuitive controls
Browser extension for easy VPN management
Compatibility with various devices
Ad blocking and malware protection for enhanced browsing
Constant updates for staying current with technology
Dedication to online privacy and security
Protection from data breaches and identity theft
Enhanced online privacy and secure internet browsing.
Technical Details
Software Name: Windscribe Free VPN For Windows
Software File Name: Windscribe-2.3.16.rar
Software Version: 2.3.16
File Size: 17.8 MB
Developer: Windscribe Limited
File Password: 123
Language: English
Working Mode: Offline (You don't need an internet connection to use it after installing)
System Requirements for Windscribe Free VPN
Operating System: Windows 10/8/7
Free Hard Disk Space: 100 MB free HDD
Installed Memory: 1 GB of minimum RAM
Processor: Intel Pentium 4 or later
Download Windscribe Latest Version Free
Click on the below link to download the latest offline setup of Windscribe Pro 1.7 for Windows x86 and x64 architecture.
File Password: 123