KakaoTalk was developed by Kakao Corporation and was launched on 18th March 2010. Kakao Corporation, the developer for KakaoTalk is a South Korean internet company that was the resultant for the merger of two companies, i.e. Daum Communications and Kakao. The merger of Daum Communications and Kakao took place in 2014. The developer internet company was at first named as DaumKakao, which was later changed to Kakao Corporation. KakaoTalk is, therefore, the world's renowned Asia based mobile messaging application, which is marketed as a freeware mobile instant messaging application. At first, KakaoTalk was developed as a freeware smartphone instant messaging application, which later extended its offerings for different devices such as personal computers, desktops, tablets, etc. and different operating systems such as Apple IOS, Mac IOS, Android, Bada OS, Blackberry, Windows Phone, Windows NT and Nokia Asha to ensure that KakaoTalk was accessible to maximum user all around the world, without any availability issues or glitches.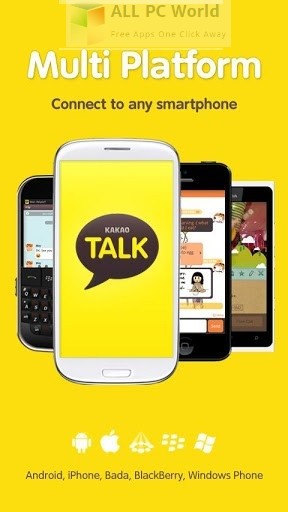 KakaoTalk has made socialization easier. It has made keeping in touch with family, friends, and acquaintances easier by making KakaoTalk for PC including for Mac OS and Windows. Besides, KakaoTalk is also available for the iPad as well as the smartphone. Whereas, KakaoTalk for PC is easily accessible and downloadable for free, without any sorts of cost. KakaoTalk for PC is available for both PC operating systems, i.e. Windows and Mac OS. Options to download KakaoTalk are readily available on the internet that can be used for windows.
For Windows users, installing KakaoTalkfor Windows is the first option, which will be done with the help of a setup wizard. Once the installation process is done, the users KakaoTalk Account must be logged in and the user's PC must be registered in order to be recognized with the user KakaoTalk Account. For the registration and recognition purpose, a keycode will be sent to the user's registered mobile number, which must be entered on the PC for registering and recognizing the KakaoTalk Account. After the downloading of KakaoTalk a profile needs to be logged in or registration in case of no prior profile. After logging in by entering the login details the PC must be registered in order to be recognized by the KakaoTalk Application.
For Mac OS users, KakaoTalk can be downloaded from the Apple iTunes Store that is accessible and available in every Mac OS. KakaoTalk for PC operating on the Mac OS can be downloaded and installed very easily, once the downloading for KakaoTalk for PC is done. After the installation is completed, the KakaoTalk user is required to perform the registration process using a mobile number. The KakaoTalk users are required to enter their number for registering KakaoTalk for PC. After entering the mobile number for registration, a 4 digit verification key code will be sent via SMS. The 4 digit verification key code must be entered to complete the KakaoTalk for iPad registration and verification process. The next step for KakaoTalk for PC is to register to make an account by filling in the form and set a username that will be used into login KakaoTalk for PC that uses Mac OS operating systems. You can also Download Samsung USB Driver For Mobile Phones Free.
KakaoTalkwas firstly developed for smartphones only, but the offerings were extended to different devices including PC by making KakaoTalk for PC, but once a person is on work trips, office or meetings, communication with contacts, friends, and family is easily possible on KakaoTalk for PC. KakaoTalk for PC offers customization offers that are available on KakaoTalk for the smartphone as well, such as, change of style, background image, opacity level, fonts, etc. KakaoTalk for PC offers multiple features on the downloadable KakaoTalk for PC such as; media file sharing with friends and family, customization of application and text themes, excel style chatting, private and discreet chat, remote log out options, chat locking options and free desktop calls as well.
Documents, photos, audios, videos, voice messages, contact information, location, location details, stickers, emoticons, GIFs, animated emoticons, World Wide Web URLs and navigation services as well as well as other kinds of content below the size of 100MBs is shareable from one PC to another KakaoTalk for PC, KakaoTalk for Smartphone or KakaoTalk for iPad users. The customizable excel style chatting offers options to change the theme of the application background, wallpaper, text, font style, size, and color. Moreover, option for secret chatting can be done just as mobile chats. Therefore, no record of chats can be kept. Moreover, in case if a person ever forgets to logout from KakaoTalk for PC, KakaoTalk can be logged out from PC remotely using the smartphone application, etc. Besides, chats can be made privacy protected and locked to make sure nobody reads them. KakaoTalk also offers free calling options for the desktop for free just like the smartphone version. However, KakaoTalk can only be used when the people communicating have the KakaoTalk application installed and available. The two or more people communicating must have KakaoTalk installed, which means both the users who intend to communicate for free must have KakaoTalk downloaded and installed in their smartphones, desktops using whatever operating system. KakaoTalk application is widely available on the internet in general and on different operating system stores for free. The registration process ofKakaoTalkfor PC is as simple as KakaoTalk for Smartphones. The registration for KakaoTalk for PC, operating on both the operating systems, i.e. Windows as well as Mac OS is the same, which is in detail mentioned above.
KakaoTalk is available in 15 languages and is used in more than 130 countries of the world. KakaoTalk is the first messenger to acquire ISO 27001 certification in the world. KakaoTalk had 220 registered users from worldwide by the mid of 2017, out of which 140 million registered users were from Korea alone, making these statistical figures stand alone of around 93 percent active users of KakaoTalk in South Korea along and with presently more than 50 million active users worldwide.